---
UL FGG Laboratory for Aggregates
At UL FGG, the unit called Research Institute for Geo- and Hydro-Threats was established (RIGHT) in 2014. Its activities in the last two academic years (2019/20 & 2020/21) are available here. The RIGHT Institute established a Laboratory for Aggregates that's on ~50 m2 laboratory room home to the following laboratory equipment:
---
UL FGG Weather Station
We are running a Weather Station on the roof of the University of Ljubljana, Faculty of Civil and Geodetic Engineering main building, Jamova cesta 2 in Ljubljana (see photo below).
Numerous parameters are measured by diverse equipment, including:
You are invited to look at the measured values by visiting this web page.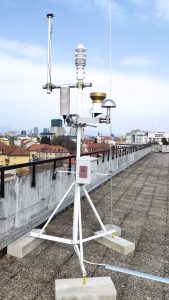 ---
Links to Useful Field Equipment
---
Link to Field Equipment at UL FGG